Author: Michelle Hadkin
Genre: Fantasy, Young Adult, and Romance
Cover Rating: 4/5
Aesthetically, I thought this cover was beautiful. I loved the underwater aspect, it was almost as if she was drowning in all of her hardships and life and she needs saving. Though I didn't feel like it tied into the book as well as it could of. It would have gotten a 5 if it would have tied into the novel well and been as beautiful as it is!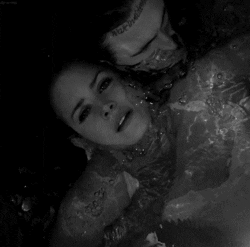 Goodreads Summary:
Mara Dyer believes life can't get any stranger than waking up in a hospital with no memory of how she got there.
It can.
She believes there must be more to the accident she can't remember that killed her friends and left her strangely unharmed. 
There is.
She doesn't believe that after everything she's been through, she can fall in love. 
She's wrong.
Spoiler free Summary:
This book has been in my Goodreads want to read section since I was in high school. I am now graduated from college… ya it has been there for awhile. I never actually read it back them because from the description I thought that it didn't sound much like something that I would typically read. Though I was recently on Book Outlet buying books, as I usually am, and saw it and it was cheap and heck I put it in my cart. Then yesterday everyone on twitter made the decision for me, it was finally time to read it. I finished it in about 12 hours (counting sleeping)!
The book starts off a bit slow because it is just the main character, Mara, waking up in a hospital bed and not knowing how she got there. It is mostly explanations and introductions in the beginning. Things start to spice up when she moves to a new town and starts at a new school. First she meets Jamie, a sweet and somewhat nerdy guuy a bit on the short side. She likes him because he does not adhere to the societal standards that the other students have set at this private school. She has been through much trauma and doesn't want to be around any pretty bichachos. Thing start to look up for her. Then she meets Noah, the school's bad boy, he is everything she shouldn't want but does. Things start to get super good at this point, I couldn't put my book until I finished at this point. you will have to pick it up to find out what happens next!
This book was suspenseful, mysterious, and wonderful. It was the book that I didn't know that I needed to read. DO NOT JUDGE BY BOOK BY DESCRIPTION. For years I didn't read this because I thought that the description didn't sound much like a book that I would typically read. Man was I wrong! This was exactly my cup of tea. I would definitely suggest this to any lovers of paranormal and mysterious reads. This book will draw you in with the mystery and you won't want to put it down until the very last word!
I already ordered the next two books in the series. I will have the reviews of them up as soon as I can! Michelle Hadkins is an amazing writer and I am definitely going to read everything by her. Go read this book!
From your local bibliophile, until next time!
Go check out my youtube: thebookinstruments!
Twitter: bookinstruments
Instagram: thebookinstruments
Personal Snap: mikaylakennaugh