Author: Leigh Bardugo
Genre: Fantasy, Young Adult, Comics/Superheroes
Cover Rating: 5/5
I loved everything about this cover! The first thing that I noticed when I looked at this cover was that her wrists and the star on her forehead were shining. I love that this detail was accentuated because those two things are a big part in the actual book. Then the water and the cliffs were in the background and were obviously meant to be themyscera. It really helped to see this on the cover for people who have never seen the movie and don't realize what themyscera looks like. Then the last thing I loved was that it had the wonder woman logo that took up a large portion of the book and the colors made it look awesome! Whoever designed this cover art was a mastermind!
Goodreads Summary:
Daughter of immortals.
Princess Diana longs to prove herself to her legendary warrior sisters. But when the opportunity finally comes, she throws away her chance at glory and breaks Amazon law—risking exile—to save a mortal. Diana will soon learn that she has rescued no ordinary girl, and that with this single brave act, she may have doomed the world.
Daughter of death.
Alia Keralis just wanted to escape her overprotective brother with a semester at sea. She doesn't know she is being hunted by people who think her very existence could spark a world war. When a bomb detonates aboard her ship, Alia is rescued by a mysterious girl of extraordinary strength and forced to confront a horrible truth: Alia is a Warbringer—a direct descendant of the infamous Helen of Troy, fated to bring about an age of bloodshed and misery.
Together.
Two girls will face an army of enemies—mortal and divine—determined to either destroy or possess the Warbringer. Tested beyond the bounds of their abilities, Diana and Alia must find a way to unleash hidden strengths and forge an unlikely alliance. Because if they have any hope of saving both their worlds, they will have to stand side by side against the tide of war.
Spoiler Free Review:
As everyone knows, wonder woman is a very hot topic right now. This is because this year the wonder woman movie was released. if you saw it, you know that it is awesome! If you haven't seen it, I would suggest going and watching it immediately. The movie is actually one of the reasons that I really wanted to read this book. I wonder if Leigh Bardugo planned it coming out a couple months after the movie on purpose?
The book was book mostly started off with introductions to the wonder woman, who is know by her true name Diana in this book, and an explanation of what themyscera is. One of my complaints was that I thought that the introductory was a bit long. I mean I get that it had to have somewhat of an introductory, but you don't get to the juicy part of the book until about page 75. I mean for a book that is only about 380 pages. Though once they get to New York the action really starts to kick in. I loved how many different scenes you got to see Diana kick butt.
Once we got to the exciting part of the book I thoroughly enjoyed Leigh's writing. It was fast enough paced and had some really good action scenes, especially considering that it is about wonder woman. I thought that the idea of a warbringer, someone who will bring war when they turn 17 unless brought to a special spring. I thought that that was a very unique idea that made an awesome plot line.
One thing that I truly loved about the book was that Diana in the book and movie were so similar! I think that this was truly dedicated to the amount of time that Leigh Bardugo spent studying the wonder woman comics and other sources. I think that this is the key for an author to have an amazing book. It is especially important when the topic of the book is something that has already been written about and been around for a long time. Though it is truly amazing that the mannerisms and characteristics of Diana seemed to translate from the movie to the book. i truly enjoyed that fact because after the movie I had a picture of what Diana is like and Leigh seemed to stay true to that picture even though I am sure she finished this book before the movie came out. The Leigh knew what i love and threw in my favorite thing, A PLOT TWIST. I love when authors are able to surprise and throw me off my feet with the plot twist they have. typically I am able to guess what the outcome of the book is going to be, but I didn't see this one coming. I thoroughly enjoyed that the ride that Leigh took her readers in throughout this book.
Overall, I thought this was a very well written and delightful book to read. I have quenched my wonder woman need for the time being. I am now even more excited for the justice league movie to come out! I would suggest any comic book lover to read this or someone who loves strong woman characters. There are only a couple things that I thought were not necessary or could have been changed, but overall I was thoroughly impressed. Nice job Leigh!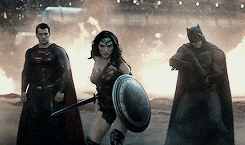 Go check out my youtube! I will have a non spoiler/spoiler review up there this week! It is the same name as this blog.
From your local bibliophile, until next time!!